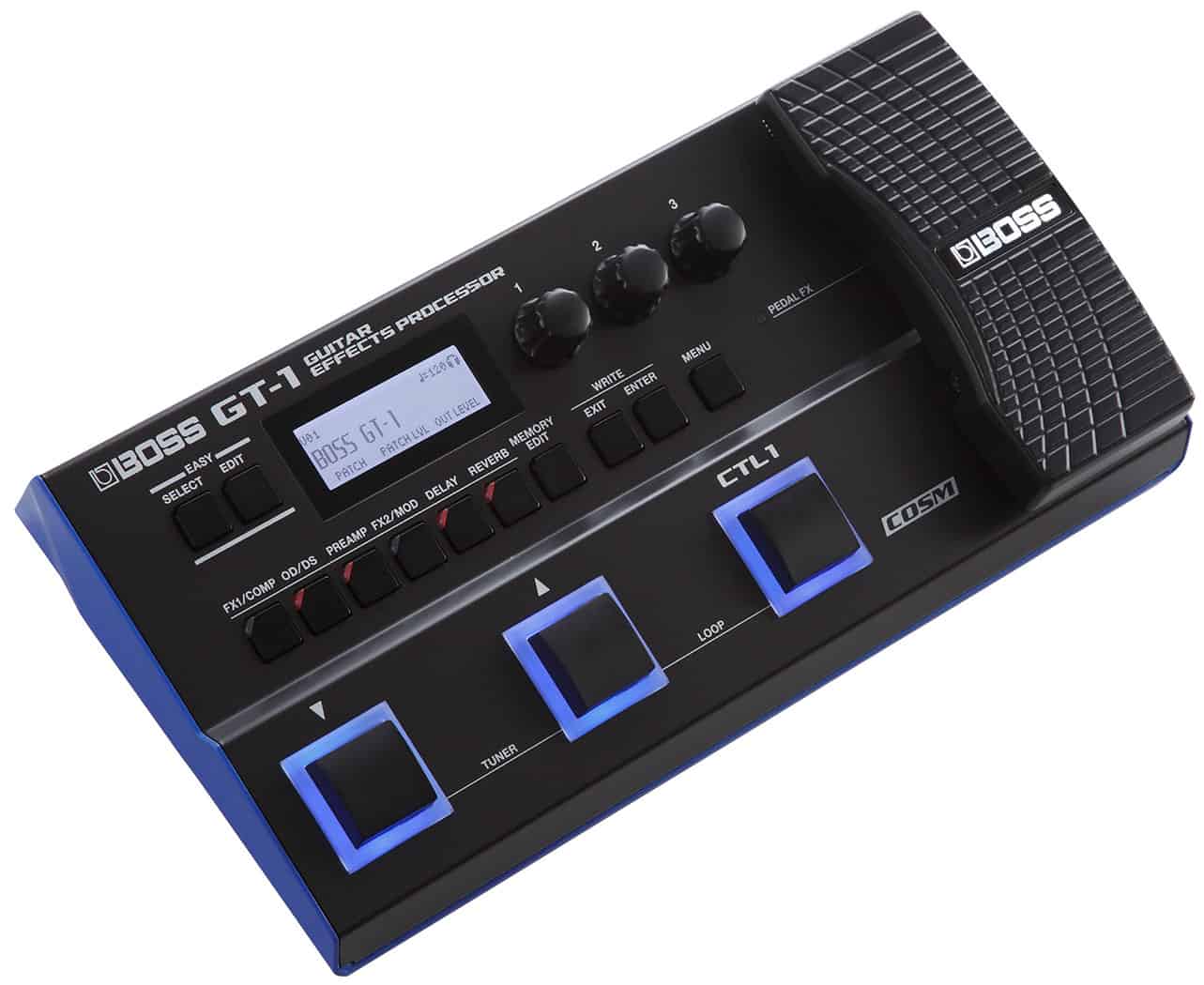 Boss is the quintessential stompbox company, with a reputation for reliable, quality guitar effects. They're best known for their iconic standalone effects, but they also make the GT series of digital multi-fx units, great for getting a lot of guitar sounds in a compact package. The Boss GT-1 Guitar Effects Processor is the smallest member of its family, and despite its low price and tiny footprint it is an extremely versatile toolkit for guitar.
Features
The GT-1 contains 99 presets, 99 slots for user-defined patches, over 100 effects and amp sims, a looper, a tuner, three footswitches, and a treadle. It has a USB port so you can use it as a recording interface with your computer. It takes AA batteries or a standard 9V adapter, so you can take it anywhere.
The GT-1 includes many standard effects (chorus, flanger/phasers, vibrato, tremolo, and many more), and you can enable up to two at a time. There are dedicated slots for delay and reverb with a few different flavors available of each. The included treadle opens a world of functionality. It can serve as a volume pedal, or as Whammy-style pitch shifter, or as a variety of modelled wahs. If you find the treadle too small for your taste, you can use an external expression pedal like the Dunlop DVP Volume (X) Pedal.
In addition to the effects, there are 27 preamp models included with the GT-1, designed to model a wide range of amplifiers from Fender-styled cleans, Marshall stacks, to Dual Rectifiers and other high-gain shredders.
Tweakability
When I first bought my GT-1, I was concerned that the sheer versatility and limited controls would make tweaking sounds a nightmare of menu diving. Fortunately, this isn't the case; the interface is intuitive and makes it easy to choose effects, change their order, and tweak them to taste. There's a big online community of GT-1 enthusiasts and a wealth of video tutorials on how to get great tone with it.
Amps
Some amp models are better than others. For clean sounds, I like the "Clean Twin", which models a Fender Twin Reverb. For crunch sounds, I like the "Dx Crunch" and the "Match Drv", which model a Fender Deluxe Reverb and Matchless DC-30 respectively. The "MS1959 I+II" mode, based on the Marshall Plexi is a very good classic hard rock sound. For modern high-gain sounds, I like the "R-fier Vtg" and "5150 Drv" modes.
Distortion: the GT-1's sore point
There are a variety of distortion and overdrive pedals on the GT-1 based on classic drives. I consider these to be the GT-1's main weak point: they don't have a ton of headroom; they quickly get muddy and indistinct; and they rarely sound like the pedals they're based upon. They don't make for good standalone drive channels unlike for example a MXR 5150 OD.
Although I'm not fond of the distortions, I think the overdrive models pair extremely well with the included amp models. The TubeScreamer and OD-1 emulations are an excellent complement to the mid-to-high gain amp models. Likewise, the Blues Driver emulation and the "Natural OD" pair sound great with the Fender and Matchless models. For an example of how I set up a high-gain sound, check out this video.
Conclusion
I've had my Boss GT-1 for over a year and I'm still discovering new uses for it. It has an incredible number of features, has fantastic performance, and is available at a bargain price. Whether you need a multi-fx, an amp sim, or a guitar recording interface, the Boss GT-1 is an excellent option. Try it out!