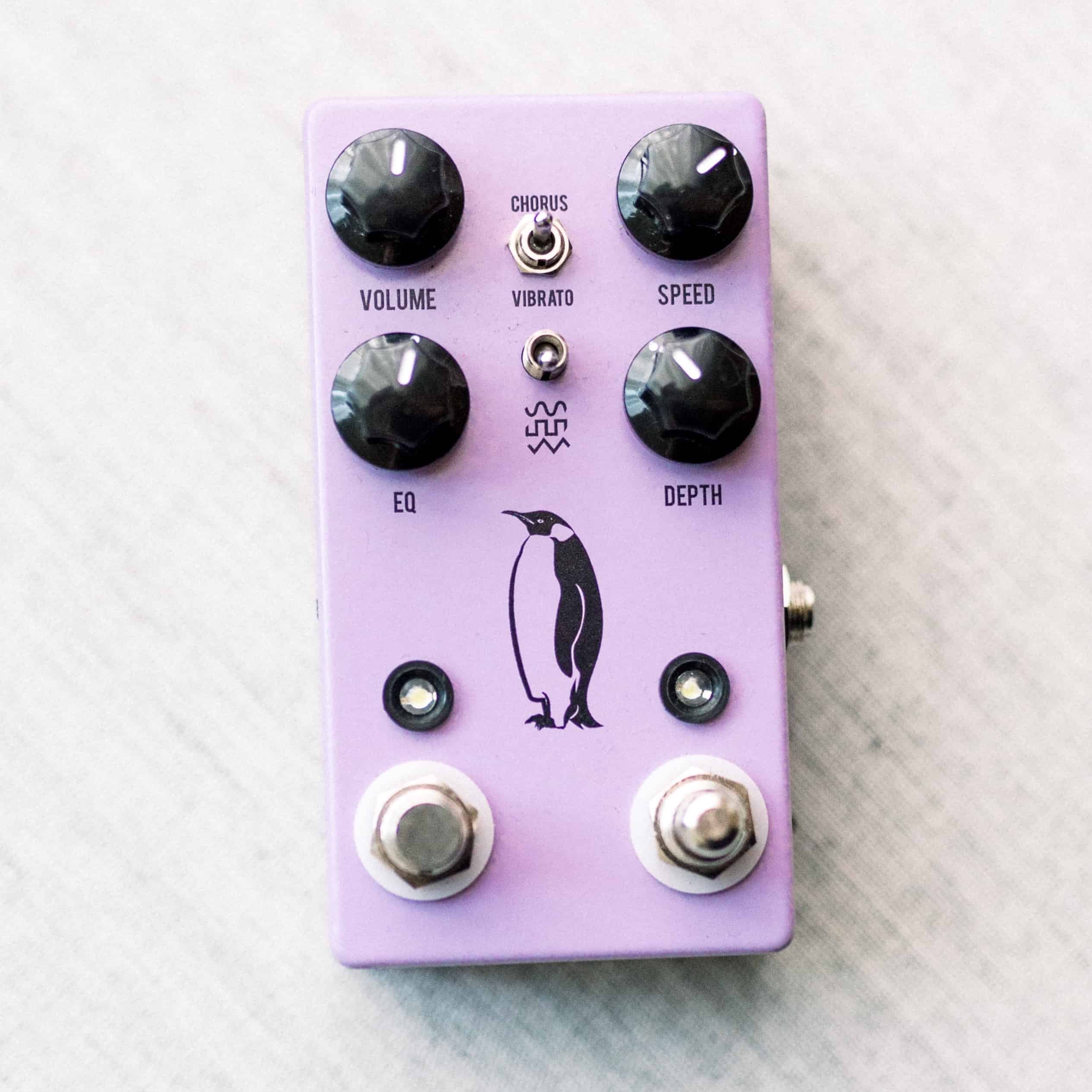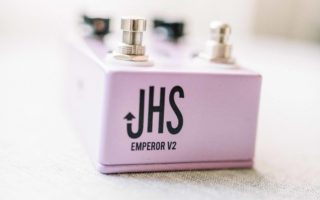 The JHS Emperor V2 guitar pedal is an analog chorus and vibrato pedal from Kansas City's premiere pedalsmiths at JHS Pedals. It has an abundance of features, sounds great, and its attractive little penguin logo and lavender enclosure will look good on your pedalboard.
After my review of the budget Behringer UC200 chorus, I thought it would be appropriate to try a higher-end chorus pedal. I reached out to vendors for pedals to review, and although I mostly received the cold shoulder, JHS offered to loan me an Emperor. Thanks, JHS!
According to JHS, the Emperor is modeled after the Arion SCH-1 chorus from the 80s. It's a classic circuit, very similar to the Boss CE-2, but they're rare and difficult to find in good condition. The Emperor brings the SCH-1's sounds into the 21st century with greater build quality and a slate of additional features.
It makes a lot of sense to combine chorus and vibrato in one pedal. Both effects create a detuned copy of your original signal, but whereas chorus blends the dry and detuned signals, vibrato completely cuts the dry signal, for a less "swirly" and more "wobbly" (not technical terms) sound.
JHS Emperor Specifications and Features
The JHS Emperor comes in a sturdy, light-purple enclosure and takes 9V DC jack power only (it doesn't take a battery). It has a mono input and a single stereo output jack (use a TRS splitter to connect it to two amplifiers, or a normal cable to connect to one).
There are two footswitches on the Emperor's case: one for tap tempo, and one to toggle the effect. In addition to the on/off LED, there's an LED that pulsates in time with the effect. Inside the pedal, there's a switch to select between true bypass and buffered operation.
The Emperor has four knobs: Volume; Speed; EQ; and Depth.
There are two toggle switches: one that chooses Chorus or Vibrato mode; and one that selects between three modulation waveforms (Sine, Square, and Triangle).
Video Demo
I made a video demonstrating the sound of the JHS Emperor V2, playing some simple chords with a variety of settings for waveform, speed, and depth in both chorus and vibrato modes.
External Control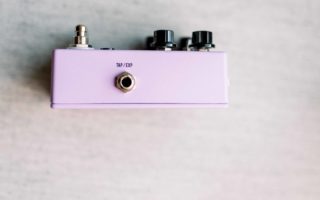 On the JHS Emperor's right-hand side, there's an input jack where you can connect an expression pedal (like the Dunlop Volume (X)) or an external tap tempo source to control the Speed parameter. Some example uses:
Increase and decrease the effect speed, to simulate a Leslie speaker speeding up or down.
Use the Emperor in conjunction with a MIDI-enabled switcher (like the Boss MS-3) with tempos programmed for all the songs in your setlist.
Tilt EQ
The JHS Emperor's EQ is a "tilt" EQ, which means it adjusts the balance of high and low frequencies rather than simply cutting them. In contrast to the standard high-cut/boost of a typical tone knob, this is very appropriate for the wide, swirly sound of a chorus.
Go Deep
With the JHS Emperor's Depth control at 9 o clock, your tone gets just a little richer, the two signals barely wobbling. At noon the effect is a little more overt. Set the Depth to maximum and you'll be at the bottom of a sonic swimming pool.
Choose your Waveform
By offering three selectable modulation waveforms, the JHS Emperor offers lots of interesting sonic options. The Sine wave sounds the smoothest, the Triangle wave is a little choppier, and the Square wave – rare to see on chorus/vibrato pedals – is the choppiest of all, abruptly shifting pitch from one extreme to the other. My favorite is the Triangle mode because it's bold but not too unconventional.
I've included some audio samples of the different waveforms as applied to the Vibrato effect. In all examples Volume, Speed, and EQ are at noon and Depth was maxed out.
---
Sine Wave
We hear a smooth modulation between pitches on the sine wave vibrato setting.
---
Triangle Wave
The pitch modulation is a little jerkier on the triangle wave vibrato setting.
---
Square Wave
The pitch modulation is very abrupt and warbly on the square wave setting.
---
How did I like the JHS Emperor?
I was extremely impressed with the JHS Emperor. It sounds fantastic, it's built to last, and it's versatile enough to cover a wide range of use cases. It nails a particular clean indie guitar sound and opens up a huge number of creative opportunities. If I were on the market for a chorus in its price bracket, I would buy one.
I've been listening to a lot of Mac DeMarco lately, so the Vibrato mode on the Emperor hits the spot. I like it with the Depth set nearly to maximum, which spices up chord progressions. Plus, it's so much fun to experiment with different modulation waveforms.
I have one minor, extremely subjective gripe about the Emperor. When you set the Depth control to maximum, it doesn't get as washy as other choruses. If you want to push the boundaries of chorus, you should try a different pedal. On the other hand, if you want an elite representation of "traditional" chorus, buckle up.
Conclusion
The JHS Emperor V2 Chorus/Vibrato is an excellent pedal. If you're on the market for a chorus or a vibrato, it's hard to imagine a pedal doing a better job than this one. Buy the JHS Emperor on Amazon.
(Photos are credit Cerise Photography)