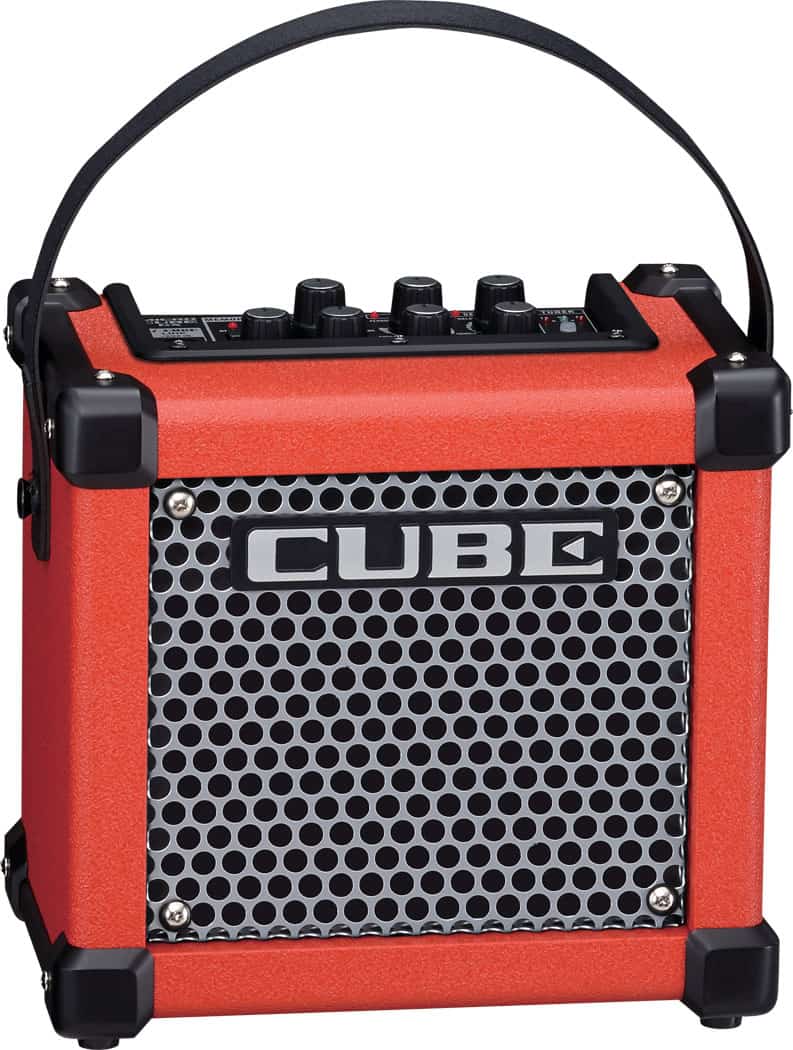 Roland Micro Cube GX
The Roland Micro Cube GX, released in 2013, is the latest edition in Roland's legendary series of Micro Cube portable guitar amplifiers.
The Micro Cube GX weighs about 6 pounds and has a carry strap, so it's extremely portable. It features battery-powered operation – it takes six AA batteries, which Roland claim will power it for as long as 25 hours – but you can use a standard 9V power supply instead.
I've owned a Micro Cube for over ten years. In addition to low-volume practice sessions, I've used it for small jams with friends, as well as recording, and I love it. I've owned other practice amps and sold them all – this is the one I've kept.
Amp Models
The onboard amp models are quality. The "JC Clean" and "Black Panel" are great clean tones, emulating a Roland Jazz Chorus and a Fender Twin respectively. The "Brit Combo", emulating a Vox AC30, has a slight bite, and the "Classic Stack", which models a Marshall is a great flat-out classic rock tone. When I'm in a high-gain mood, the "R-Fier Stack" mode is a scorcher. However distorted you like your tone, you'll find it easy to dial in a sound you love.
Onboard FX
The amp has a wide range of effects available. Chorus, Flanger, Phaser, Tremelo and "Heavy Octave" are available on the EFX knob and are all good-enough renditions of these effects. The delay and reverb, also decent, are on a separate knob.
Each effect only has one parameter you can tweak, so it's not possible to configure them deeply. It makes sense to keep cost down and ergonomics high by limiting the options, but it is a shame you can't adjust delay time and feedback. Then again, this is an at-home practice amp – not a tone machine that you'll be using to hone your signature sound.
New Features
The Micro Cube GX includes some cool features absent from previous editions. There's an onboard chromatic tuner, considerably easier to use than the previous edition. There's a new "Extreme" model, which kicks the gain even higher. The "Heavy Octave" adds an octave below the note you're playing. Previous editions always had aux inputs so you could play alongside a backing track, but the GX series includes "i-CUBE LINK" which lets you play and record with a backing track.
Conclusion
As the latest iteration of what has been described as the "The Best Practice Amp", the Roland Micro Cube GX is a great choice for playing at home. Check it out!