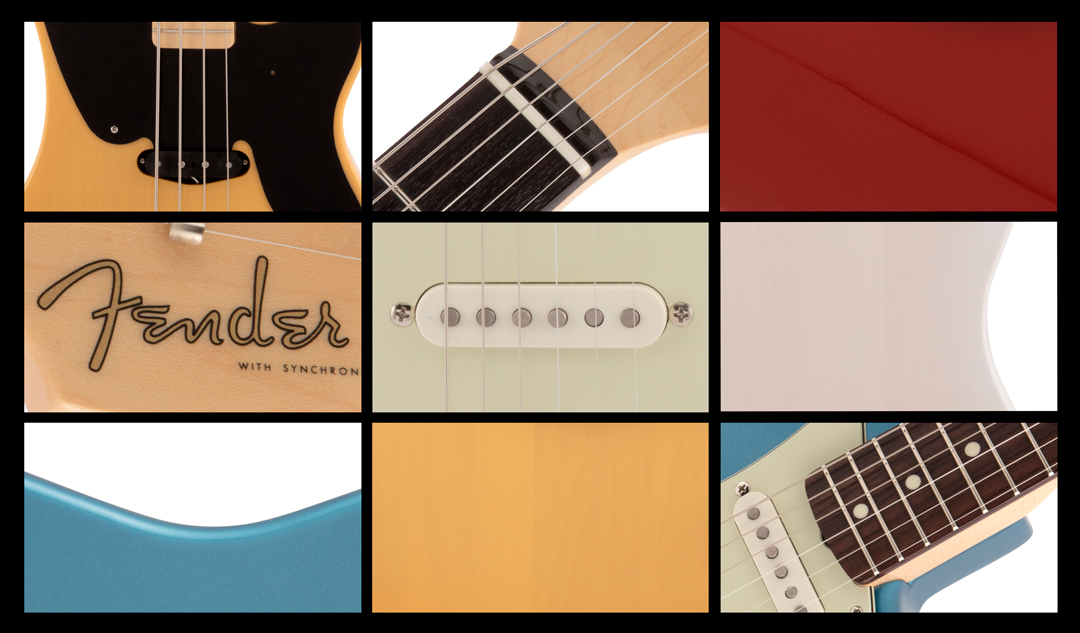 5 Japan-only Fender Guitars Worth Traveling For
Fender has been making guitars in Japan since the 1980s. Many of their Japanese-made instruments are unavailable in the US market; too bad, since some of the Japan-only Fender models are simply incredible.
Here are five of the coolest Japan-only Fender guitars I found on their Japanese web store. Get your passport ready!
MADE IN JAPAN MODERN STRATOCASTER® HH

I love the look of this guitar. I'm a sucker for Stratocasters with body-mounted pickups, retaining the classic Strat silhouette but without a pickguard detracting from the finish. The matte-black body with cream binding and matching headstock, plus the bright chrome hardware, give this Strat an extremely modern twist without compromising the Fender mojo.
This guitar will set you back ¥153,000, or around $1400 at time of writing.
MADE IN JAPAN 2019 LIMITED COLLECTION STRATOCASTER®

Another Strat, this one featuring the traditional 3 single coils we know and love. What really excites me about this guitar is the thin nitro finish. I don't normally prefer white guitar bodies, but I appreciate how this paint job shows off the character of the body wood.
This guitar costs ¥ 198,000 (excluding tax), or around $1850 at time of writing.
SILENT SIREN TELECASTER®

I'd never heard of Japanese all-girl J-pop-punk band Silent Siren, but this eye-catching signature axe prompted me to check them out. I'm glad I did, because they've recorded lots of fun songs over the years. This is the signature model of the band's Sumire Yoshida, who opted for an extremely unconventional Telecaster with a white painted fingerboard, a bridge humbucker – neck single pickup configuration, and a painted-on f-hole. I've never seen a Tele like this before.
This formidable guitar will cost you ¥112,500, or around $1050 at time of writing.
MADE IN JAPAN HYBRID TELECASTER® CUSTOM LIMITED RUN ROASTED MAPLE NECK

This Tele is a little more traditional than the Silent Siren above, with its S/H pickups and 3 saddle bridge. The neck really elevates the look of this guitar, though; its light brown roasted maple is a beautiful complement to the indigo body.
This Telecaster costs ¥ 120,000, or around $1100 at time of writing.
INORAN JAZZ MASTER®

Inoran is a singer/guitarist who in the 80s founded legendary Japanese rock band Luna Sea, and who has had a long career since then. His signature Jazzmaster is notable for a few reasons. First, the gold/black color scheme is extremely eye catching. Secondly, the neck has a 7.5" fingerboard, which in 2020 is pretty old-school. Finally, the trem has a "Buzz Stop", an unusual accessory I've never encountered before. The buzz stop is an accessory for Jazzmasters and Jaguars which redistributes the string tension between the trem and the bridge in such a way as improves sustain. As far as I can tell, no other Fender guitars have this accessory preinstalled, making this an extremely unusual guitar. Now that I've heard of the Buzz Stop, I'm considering picking one up for my Squier Vintage Modified Jaguar.
The Inoran signature Jazzmaster costs ¥133,200, or roughly $1230 at time of writing.
---
Checking out these Japan-only Fender guitars makes me want to take a trip across the Pacific. Which one is your favorite?