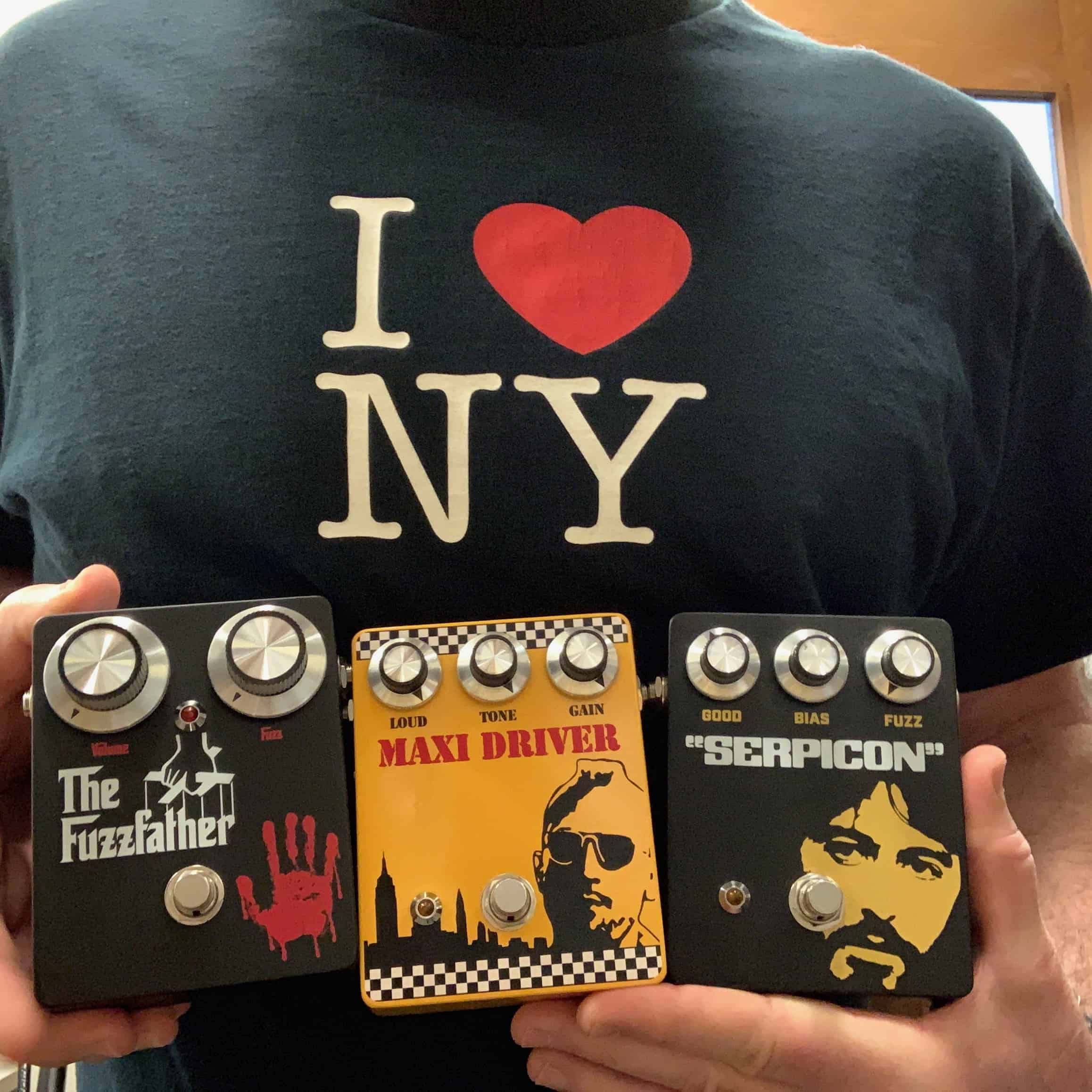 Interview: Joe Popp
The best part of guitar blogging is making friends along the way. I met Joe Popp, a New York City-based pedal maker, by way of his Instagram page. His feed grabbed my attention with his colorful creations, the quality of his handiwork, and the oft-terrifying sounds his pedals make. I thought he'd be a great candidate for Var Guitar's first-ever interview, and lucky for me, he agreed.
How did you get your start in making gear?
I got my first electric guitar when I was 12 and shortly after that, my brother John taught me to solder. I built a few gadgets and speaker cabinets. During high school, I built this 100 foot guitar cable so I could enter through the audience for shows I played in the auditorium! I built a home studio in my house and later a full blown analog 8 track setup with a hand wired patch bay in the early 90s for my band dogs on ice. My first amp was a Ceriatone kit from Nik Azam in 2007. Nik helped me a great deal! I got into making pedals at the same time. My first pedal was a polished aluminum boost pedal that I built from a General Guitar Gadgets circuit board.
How did you know you were onto something with the Popp Rock Shop pedalmaking project?
Haha! I am still not sure I am on to something! I've been making gear for a long time and in May of 2019 I decided to try and sell some things. I get a lot of joy from creating both music and gear and I hope to turn the gear building side into a sustainable business. With Popp Rock Shop, I am going to be doing studio design and consulting and custom cables along with the amps and pedals.
https://www.instagram.com/p/Byv3oYJH-Nh/
Your Fuzzfather demo features a homemade amp head. Tell me about it.
That amp is one I built for the Sonic Arts Center (the music recording program at CCNY) where I have worked for 17 years. It's a 50 watt JCM800 2204 turret board clone with a few basic mods. The amp has Mercury Magnetics transformers, Sozo caps, and Dale Vishay resistors. The Popp Rock Shop model amp I will be introducing soon will be a similar design. The amp has been running like a champ under heavy use for over 11 years! More info here: https://www.joepopp.net/jcmtwins.htm
Your pedals' names and artwork are themed after 70s films shot in NYC. What's the next film in line to get the Popp Rock Shop treatment?
I love 70s movies based in NYC as you can tell! The next pedal will be based on Dog Day Afternoon or Goodfellas. Two more of my favorite films.
Who does the art for Popp Rock Shop's pedals?
I come up with the concept and do as much of the layout and drawing as I can, but I'm still getting my chops together on Adobe Illustrator so I rely on my old bandmate Martin Rice to help with some technical issues. He also has a very keen eye and adjusts the positioning of the elements.
Do you have any advice for aspiring gear makers?
Build because you love to build! Take advice from other builders and try to support each other. People in the DIY community are awesome!
---
You can find Joe here, here, and here. Many thanks to Joe for agreeing to this interview.
https://www.instagram.com/p/BxpzsoNAPrJ/?utm_source=ig_web_copy_link