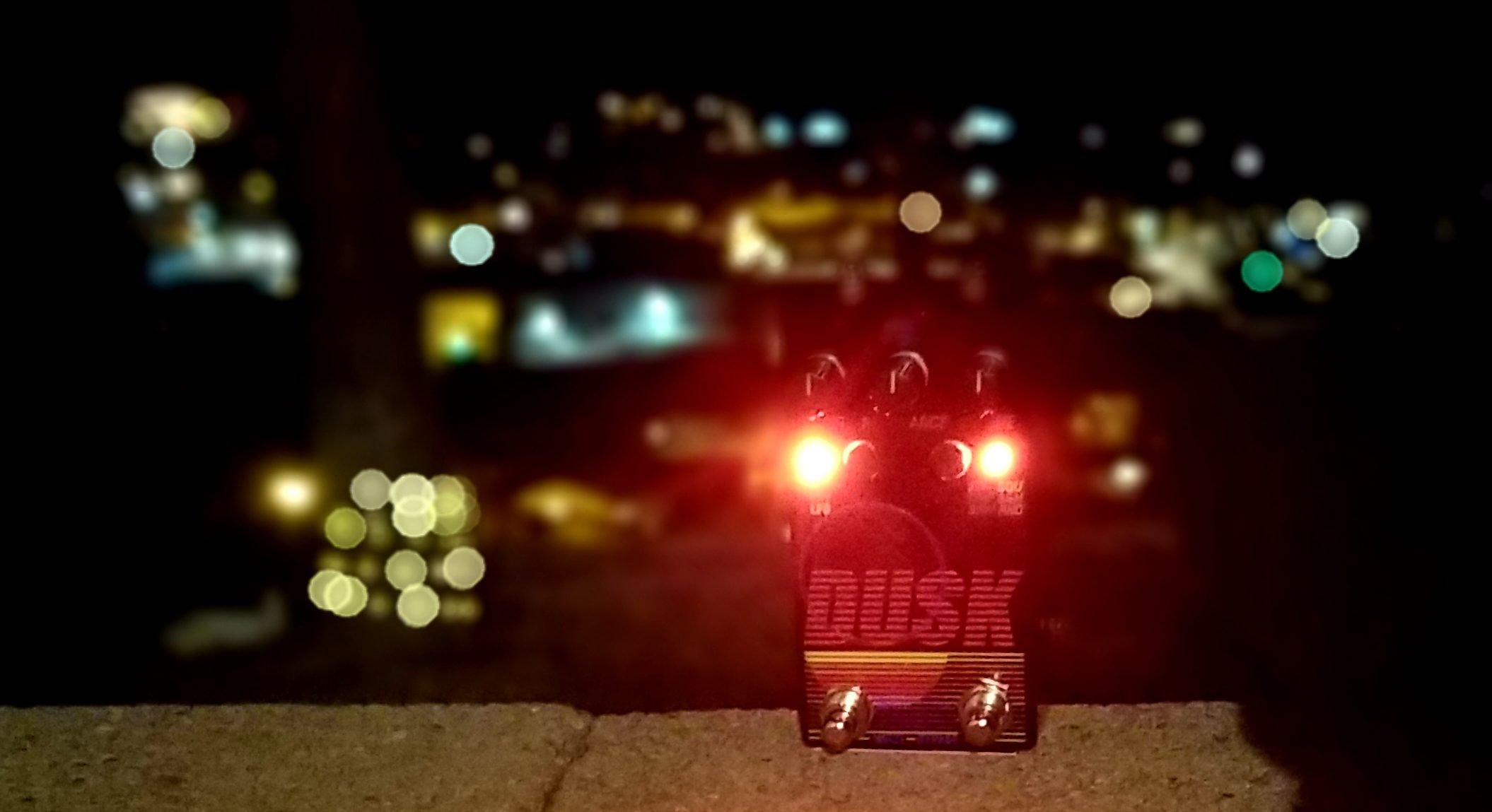 Interview: Ryan Clarke (Dr Scientist)
Ryan Clarke is the founder of Dr Scientist, a pedal company in British Columbia, Canada. He and his team are responsible for some of the quirkiest effect pedals in the business, including BitQuest (a collection of digital effects with fuzz) and The Atmosphere (a reverb pedal with 16 modes and, believe it or not, a configurable screensaver). Their latest pedal is Dusk, a "digitally controlled analog filter". I interviewed Ryan via email in March 2020.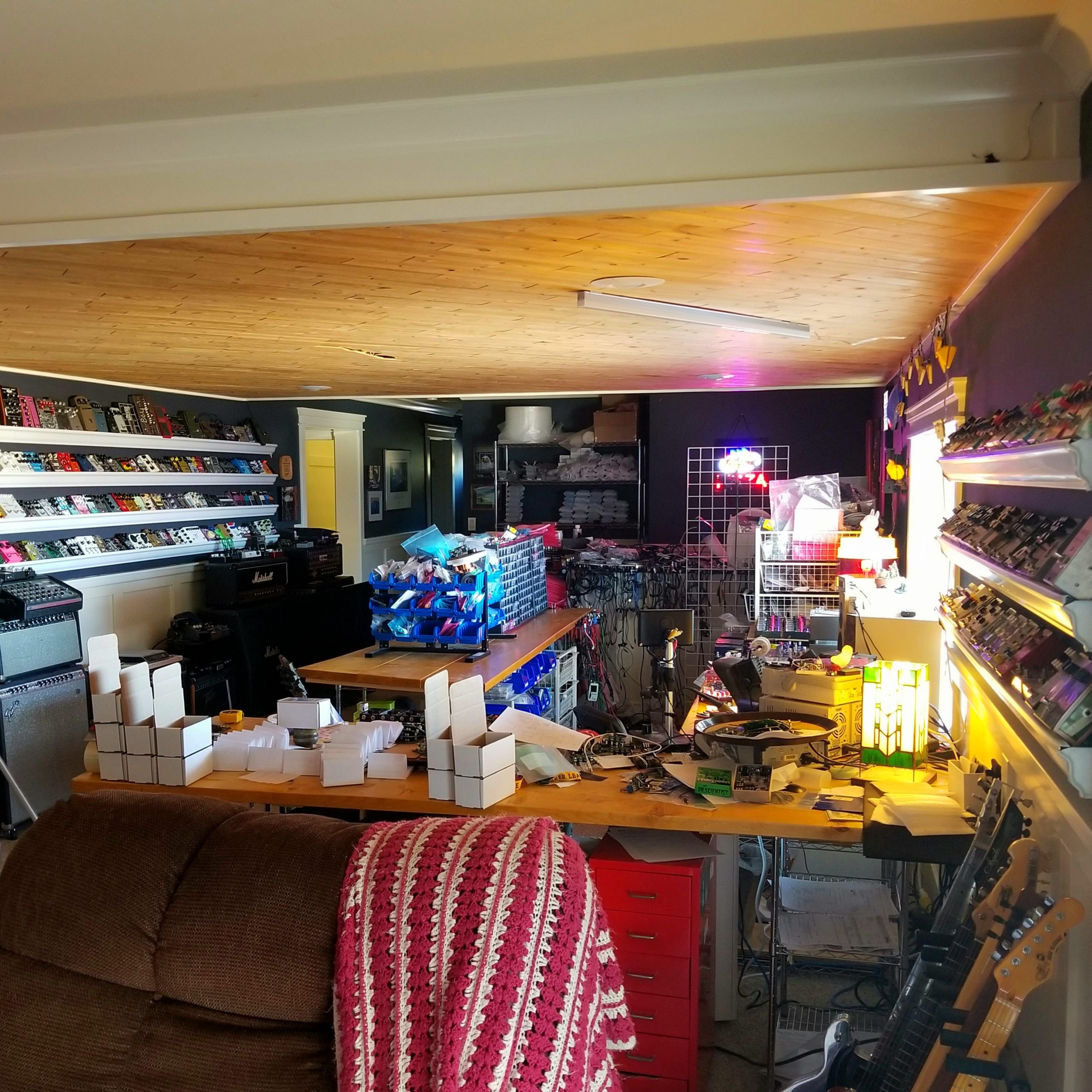 Tell me about yourself and your musical journey.
I'm a soon to be 44 year old electronics and video game nerd. I've been a lover of music and audio gear my whole life and I've played (attempted to play) guitar since I was around 17. I've mainly been into heavy metal as my favourite genre since I was a kid, I love extreme guitar tones, the wilder the better. I love synth rock and heavy music with synthesizers too. I've played in a metal cover band for a couple years in my early 20s, we never really played any shows but we definitely all got hearing damage. Nowadays I mostly listen to a few favourite bands, some stuff I've loved for decades, some stuff is new. My most played stuff is GWAR, Deadsy, Trail of Dead, Gomorrah, random metal songs through the years like Slayer, Alkaloid, Deftones, Morbid Angel, lots of 90s metal really.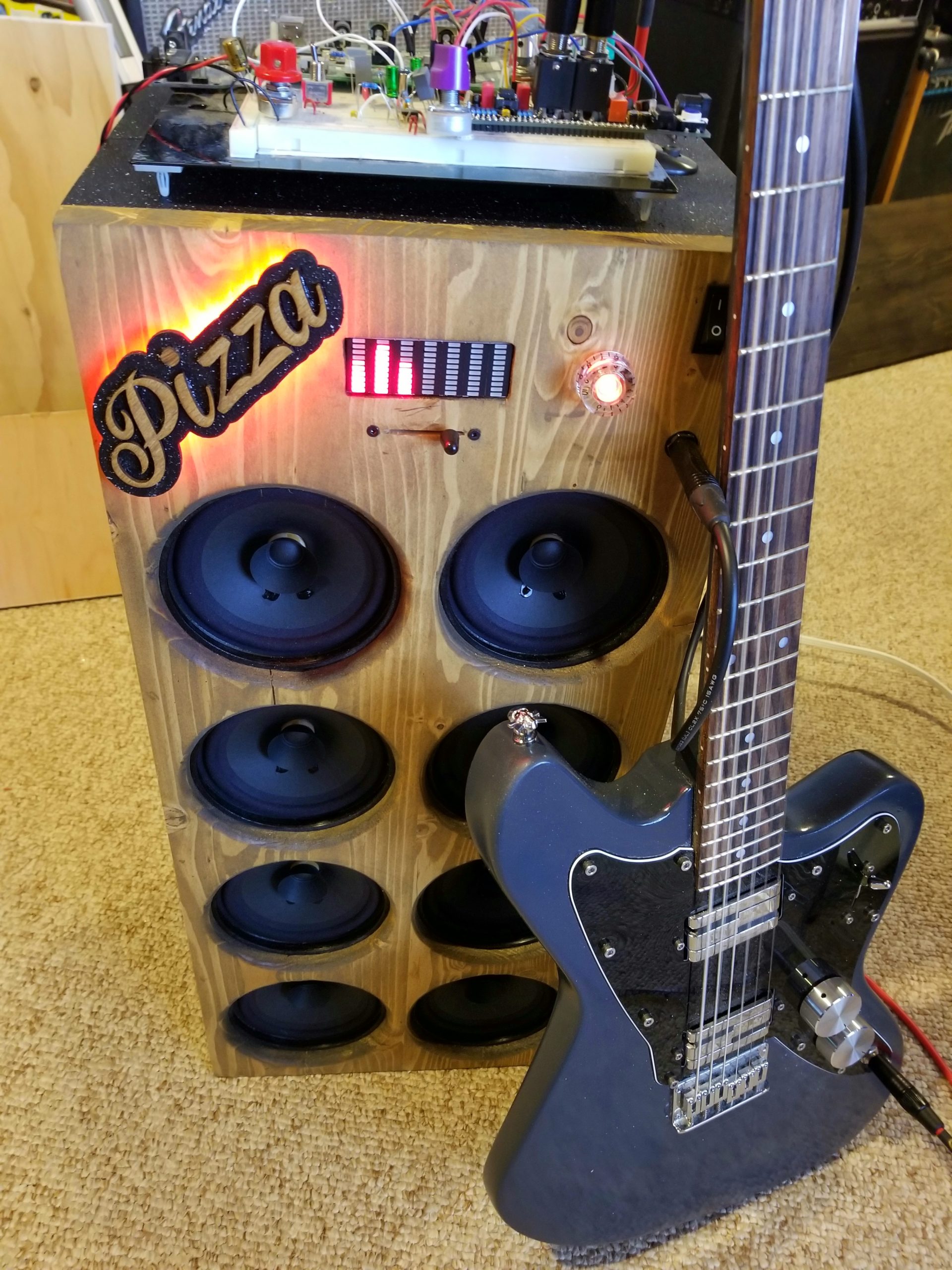 How did you get started building gear?
In 2003 I decided to leave the oilfield jobs I had been working pretty much since graduating high school and take an electronics program at NAIT, a tech/trade school in Edmonton, AB. I took a 2 year program called Electronics Engineering Technology with the goal of doing something in either home or car audio, both a big passion of mine also through the years. Right at the start of the program you get into the buildings blocks like resistors, capacitors, and transistors. I wanted to tinker with the components outside of school and since I was also into guitar a lot at that time, it was a small leap to make simple guitar circuits like boosters or fuzzes. I got a breadboard and a range of component values and started experimenting in my apartment, seeing what I could whip up. I really liked it right from the get go and never stopped tinkering, I still have breadboards all over the place.
One common theme between Dr Scientist's pedals is how unconventional they are. For example, The Atmosphere has a few reverb sounds that seemingly nobody else has implemented. How do you get the ideas for such out-there sounds?
We do try to come up with sounds and/or features that aren't common, it's just fun for us to be weird sometimes. I can't help but like weird sounds haha they're just cool! Neil and I like to experiment with the programming and the circuit tinkering a lot and see what happens, we always have a sense of adventure with our design work. We're kind of a niche small biz and we try to fill niches in the pedal market with our offerings.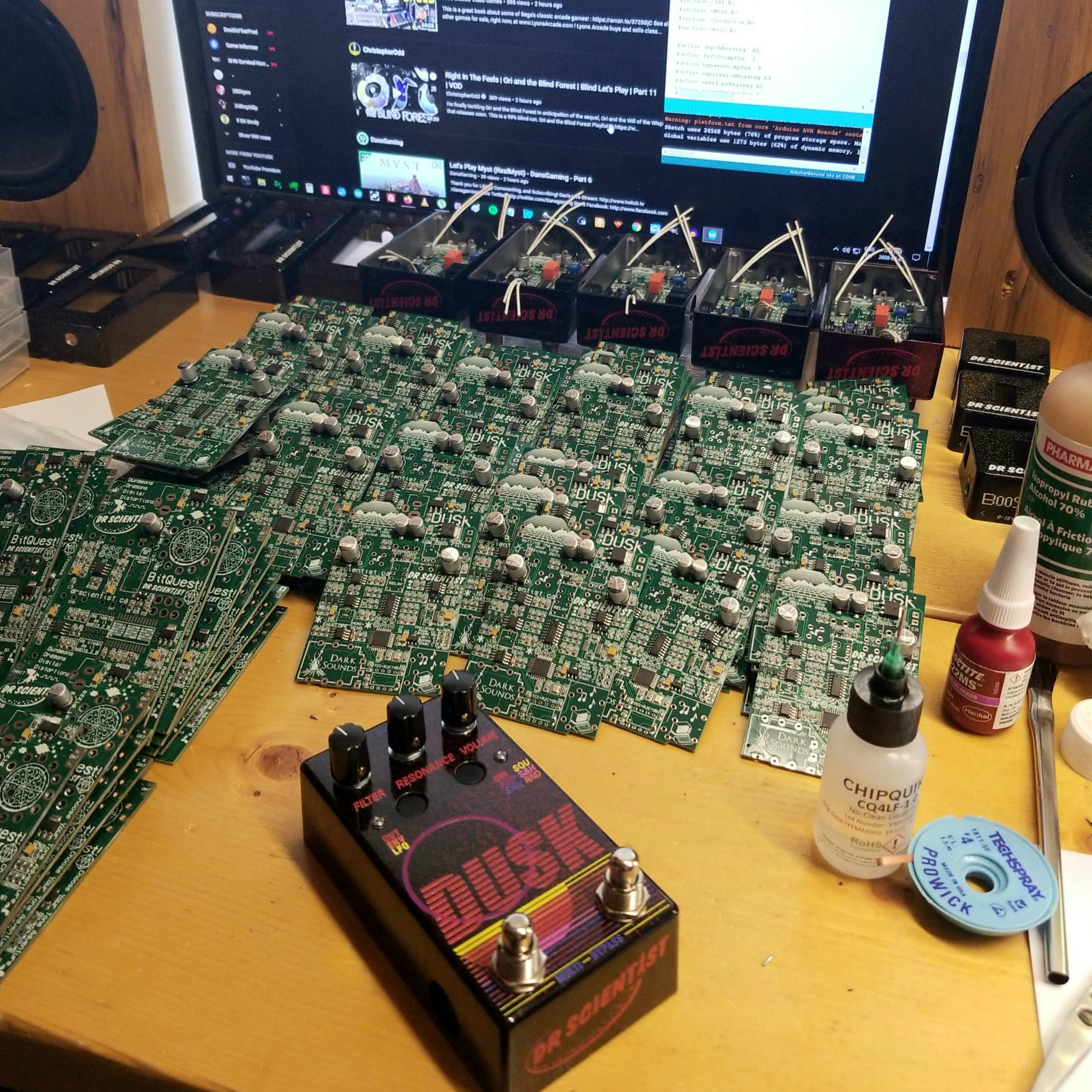 Whose pedalboard have you been most excited to see one of your pedals on?
I've been blown away a couple times in the last year… one was seeing a pic of Tom Morello trying out an Atmosphere, that was nuts. And there's a pic of David Duchovny sitting in front of a pedalboard that has a BitQuest on it, that nearly made me fall off my chair. My favourite though is just the people on Instagram and Facebook who show me pics of their boards every day, even if it's never leaving the bedroom or basement, it's always a huge honour and highly appreciated.
What's your favorite piece of non-Dr Scientist gear?
Well there's so much cool gear out there it would be hard to say it all, and I'm a big collector of pedals, I love em all haha. I really admire a ton of builders in the guitar, amplifier, and pedal worlds. My favourite fuzz through the years is probably the Boss FZ-2, I just live the grindy high gain tones it can do and it's the heart of some of my favourite recorded guitar tones like on the early Orgy and Deadsy albums. I look up to the guys who make cutting edge gear in their own way, builders like Darkglass with their Class D amps and Millimetric's totally unique guitars and Cooper FX's wildly creative pedals, guys who really push the boundaries and have new ideas.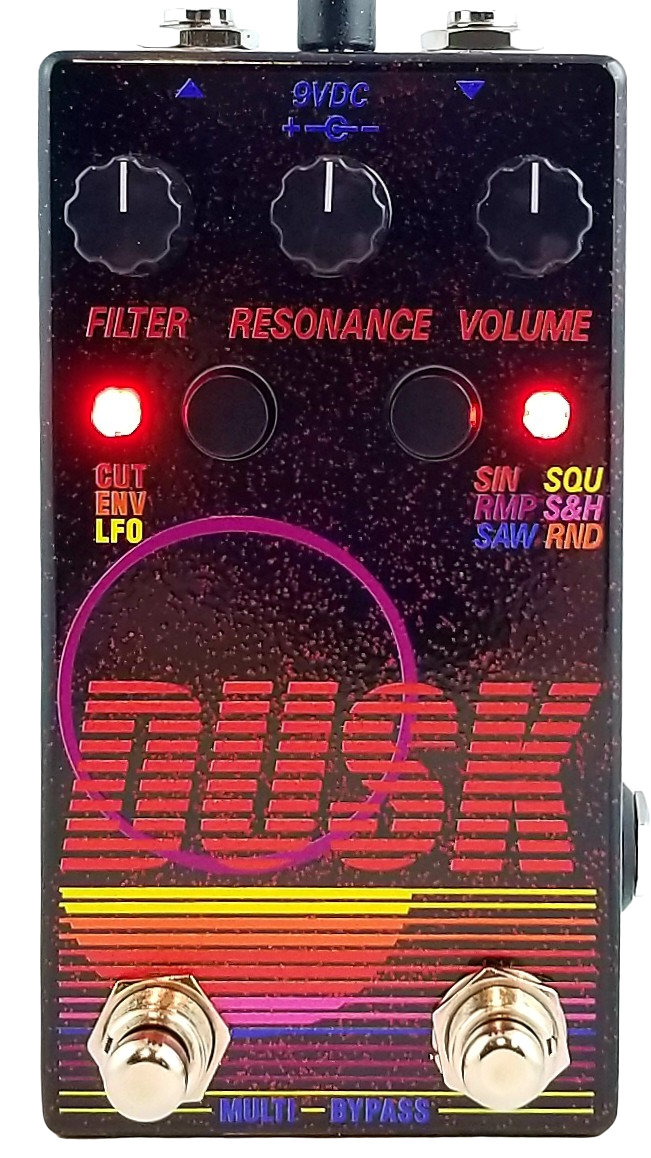 Tell me about the Dusk, your upcoming pedal.
Dusk is our new multi-mode low pass filter pedal, it's a 24dB/octave resonant analog filter that is controlled by a micro for powerful digital features. Our goal with it was to combine all the coolest ways to use a filter in one small box. It's got a manual mode where you control the filter with a knob or expression pedal or control voltage or MIDI, it's got an envelope mode where the filter responds to the dynamics of the input signal, and it's got an LFO mode where the filter is driven by 6 different waveforms. There's a second footswitch that has different uses depending on the mode. All the digital features are accessible with MIDI including a preset system, MIDI clock, LFO subdivisions and multipliers. It's really straight forward to use, in a nice small size enclosure, looks really cool, and only costs $199 USD in stores.
What advice do you have for aspiring gear makers?
I have 2 pieces of advice for aspiring gear makers, the first one is technical, you have to know your fundamentals and your tools. You don't have to be an expert, you don't need a doctorate or even a degree, but you have to know the basics of how it works and the tools to measure/make it. Second one is more open to interpretation but you have to be yourself. The pedal/amp/guitar industries have been around a long time and there's no shortage of choices in them already so you have to be unique to stand out in such a big crowd, and the best way to be unique is to just be yourself and do your thing.
---
Many thanks to Ryan for agreeing to this interview.
You can keep up to date with Dr Scientist on their website or Instagram.