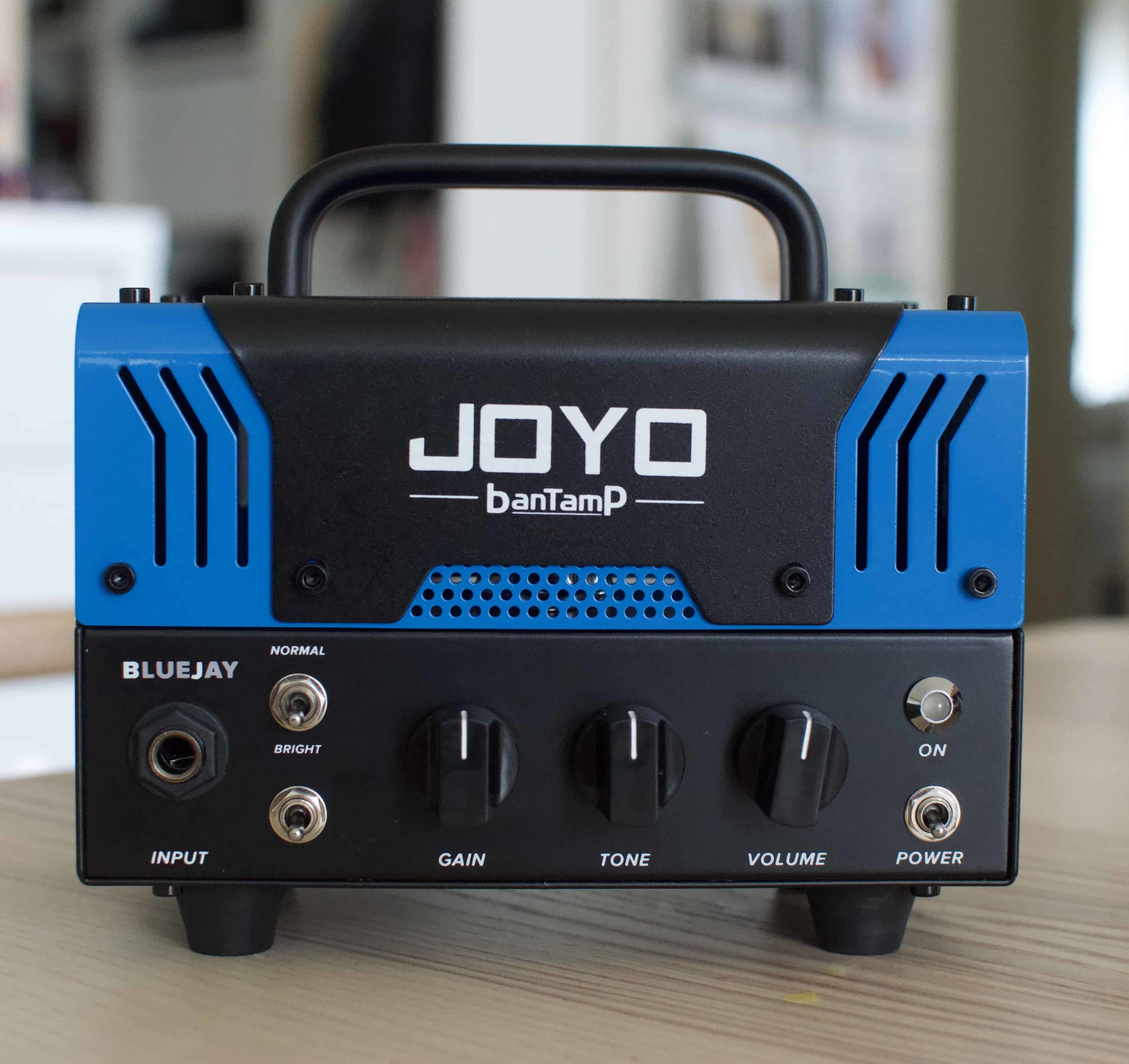 Joyo BanTamP BlueJay
The Joyo BanTamP BlueJay is a lunchbox-sized amp head from China's Joyo. It offers classic clean tones in a tiny, budget-friendly package.
The BlueJay is part of Joyo's BanTamP range of amplifiers, which emulate various classic amp tones. Joyo disavows that the BanTamPs are based on specific amps, but the promo literature provides a cheeky clue by emphasizing the B and the J; Joyo claims this is because the BlueJay's emphasis is on clean sounds for blues and jazz, but I suspect a link to the Fender Blues Junior.
I reached out to Osiamo (Joyo's US distributor) and they offered to loan me this amplifier, as well as a Nobels ODR-1 Overdrive. Thanks, Osiamo!
Specs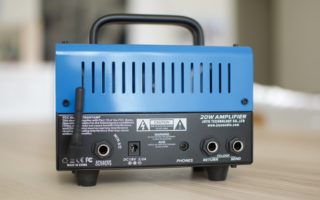 The Joyo BanTamP BlueJay is an amplifier head about half the size of a bread loaf. It weighs 1.2kg, or around 2.6lb. It's made of sturdy black and blue-painted metal and has a convenient carrying handle.
The Joyo BanTamP BlueJay's front has a single mono input and a small range of sound-shaping options: it has a toggle to select between Normal and Bright modes, a Gain knob, a Tone knob, and a Volume Knob. There's also a switch to activate Bluetooth, which changes the amp jewel from red to blue. On the back, there's a speaker output, a cab-emulated headphone jack, and FX loop in/out jacks. It comes with an 18V offboard power supply.
Why I like it
My main amplifier is a 40 watt Marshall combo, and although I love it, it isn't always appropriate for home use. It's really loud and it doesn't sound great clean; I'd like the option to practice quietly without compromising sound quality. I also own a Hotone Mojo Diamond solid-state head, which sounds good, but at a mere 5W, it gets overloaded pretty easily.
The Joyo BanTamP BlueJay clean sound is great at any volume. It's warm, full-bodied, and well-balanced throughout the frequency spectrum. Frankly, I much prefer it to my Marshall's clean tone. I can play it quiet enough for late-night practice, or I can turn it up loud enough to upset the neighbors. Crucially, unlike some amplifiers, the threshold between "too quiet" and "too loud" is very generous. You don't need a precise touch on the volume knob to set the right level.
High Headroom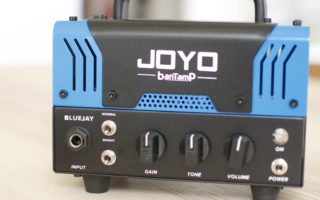 The Joyo BanTamP BlueJay has a lot of headroom. Even with its gain maxed, my loudest pickups couldn't make it distort. This is great news if you want to play loud without breakup, but the flipside is you'll need some serious boost to get it to distort naturally. This might be a pro or a con depending on your perspective, but the first words on the BlueJay's official product page are "Clean, Clean and more Clean"; Joyo told you so. If you're looking for a "pedal platform" amplifier, this is a great choice.
Given that you're unlikely to get your drive tones from the preamp, you're not likely to get much use out of the BlueJay's FX loop, but it's a nice feature to have.
Bluetooth Onboard
The Bluetooth functionality is a great feature. It's not a gimmick – it works very well. I connected my iPhone to the Joyo BanTamP BlueJay without any hitches, turned on GarageBand, and within minutes I was able to jam with a virtual drummer and bassist.
Much as I love my Micro Cube, it doesn't have Bluetooth, and although there are other practice combos out there with Bluetooth (the Boss Katana Air, Vox Adio Air, and Fender Mustang GT 40 among them) they cost substantially more and don't have any tubes.
Considerations
The Joyo BanTamP BlueJay is a great amplifier, but there are some considerations that might make you want to choose something else.
Like I said before, it is completely clean. Even with the gain dimed, I couldn't make it distort with single coils or a humbucker. In order to get the amp to distort naturally, I had to put a boost in front, at which point it was barely crunching up. If you're looking for a crunchy amp tone, this is not the right choice for you.
It gets loud enough for a small gig without compromising tone, but you probably won't be competitive with a really loud drummer. That said, do consider that I plugged into a 16Ω speaker. If I had plugged into an 8Ω speaker, I would have had more volume available.
The Bright switch and the Tone control are the only two frequency-shaping parameters, which is pretty restrictive, but still more than the Orange Micro Terror and Micro Dark which each only have one tone knob.
You need a cabinet to plug the BlueJay into. If you don't already own one, you'll have to buy one it. Joyo sells the BantCab, and if that doesn't work for you there are hundreds of other options.
Conclusion
The Joyo BanTamP BlueJay is a feature-rich amp head at an excellent price, and I strongly recommend it. Learn more at Osiamo's website.