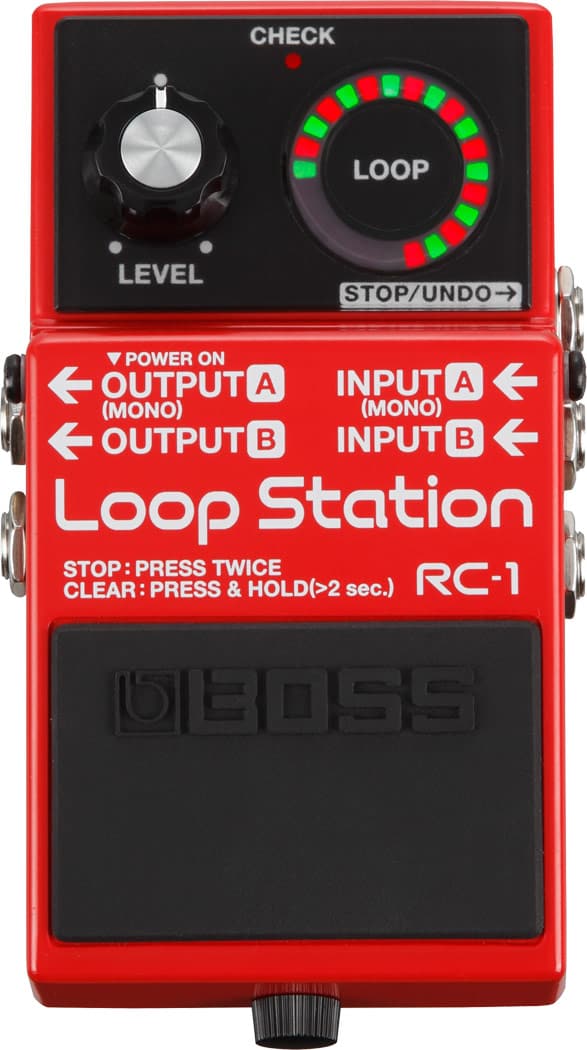 The Boss RC-1 Loop Station is Boss's entry-level looper pedal. It stores one loop of up to 12 minutes, which provides lots of flexibility for practicing, composing, and sonic experimentation.
The RC-1 has stereo inputs and outputs. Although all the loop modes are available through the inbuilt switch, it supports an external one-or-two-button footswitch for extra convenience (I use a Boss FS-7). It has a little LED indicator to show the current position in the loop and what mode you're in.
Pros
I bought my Boss RC-1 to experiment with building up melodies and textures on the fly. My trusty Boss GT-1 multifx only supports a 30 second loop duration, which felt too low, and I decided I needed more flexibility. Once the RC-1 arrived and I'd gotten acquainted with it, I was surprised by how many different ways I can use it, such as:
I can listen to my performances and really evaluate how I sound.
I can test melodies against chord progressions in real time, without having to set up a recording session in my DAW.
And of course, I can build huge soundscapes with multiple layers of sounds across the guitar's entire range.
Like all Boss pedals, the RC-1 has a robust-feeling metal enclosure. Also, as far as I can tell, it doesn't add noise to my signal.
Cons
The Boss RC-1 Loop Station is a great introduction to the world of looper pedals, but its deliberate simplicity means it lacks a lot of features you might take for granted with other loopers. For example, the Boss RC-3 can store 99 loops and export them via USB, neither of which is possible with the single-loop RC-1. Unlike the TC Electronic Ditto X4 or Boss RC-30, it doesn't have loop effects or multiple independent tracks.
Conclusion
All in all, the Boss RC-1's lack of advanced features is not a dealbreaker. It's incredibly easy to use, lots of fun, and has the classic Boss level of quality.
If you're looking for a first looper pedal, it's hard to beat the Boss RC-1 Loop Station. Check it out!